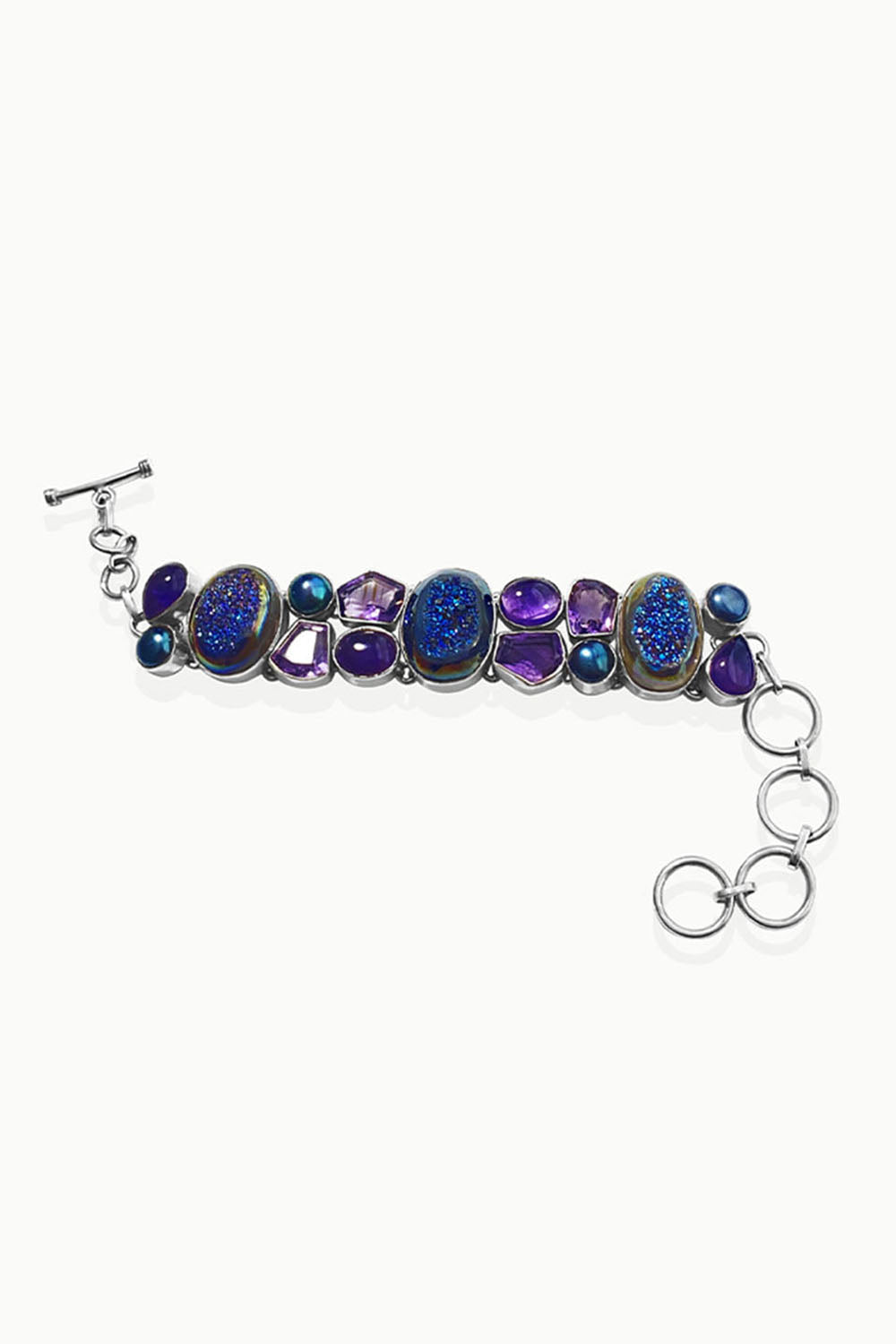 Sivalya Aura Rainbow Druzy and Amethyst Sterling Silver Bracelet
Let your Inner Goddess out with this stunningly beautiful Aura Rainbow Druzy and Amethyst Bracelet handmade in solid sterling silver. Aura Druzy gemstones are paired with Gray Pearls and Amethyst gemstones allowing the power and beauty of Divine Femininity into the wearer's life. Artistically hand-made in sterling silver, this unique and pretty bracelet design will have you looking fabulously gorgeous from day to evening.
Cushion Cut Gemstones
Aura Rainbow Druzy, Gray Pearl and Amethyst
Solid Sterling Silver Metal
925 Stamped
Adjustable to fit 7 - 8 inches wrist
Toggle Clasp Closure 
10% of proceeds go to support Homes of Hope
Every purchase helps save young girls from a dark life on streets by providing them shelter, food and a chance at education.
Learn More!
We trust that your Sivalya jewelry and crystal will be cherished for generations to come. To maintain their timeless luster, we advise using the enclosed anti-tarnishing polishing cloth to regularly clean your pieces and keep them looking as brilliant as the day you received them. When you're not wearing your jewelry, remember to keep it safe in the fabric pouch included with your order.
Please avoid the following which can cause damage to the jewelry:
Do not use any sort of liquid "jewelry cleaner"
Do not expose pieces to soap or any other cleaning agents
Do not expose your jewelry to salt water or chlorine
Do not use a polishing cloth containing any rouge
We want you to absolutely love our designs. We proudly offer a 1-year warranty from date of purchase and will happily repair or replace your jewelry if any damage occurs to the material or workmanship.
Our authentic crystals and gemstones originate deep within the earth, are ethically sourced and individually hand-picked from wholesale mineral trade-shows. Each gemstone is beautifully unique in color, markings, shape, and inclusions. Please note that small inclusions (minerals trapped inside the gems) are to be expected in natural gemstones and crystals. 
We primarily use 925 sterling silver to make all our jewelry, chains, hooks, and clasps. Sterling silver is extensively used in crafting fine jewelry with gemstones because it has the unique ability to draw out and amplify the inherent healing qualities of the stones. Pure 925 sterling silver is then coated in white rhodium or solid 14K gold, depending on the specific design, to preserve jewelry's brightness and durability. This innovative process has been tested and proven to outperform jewelry made with traditional anti-tarnish processes.