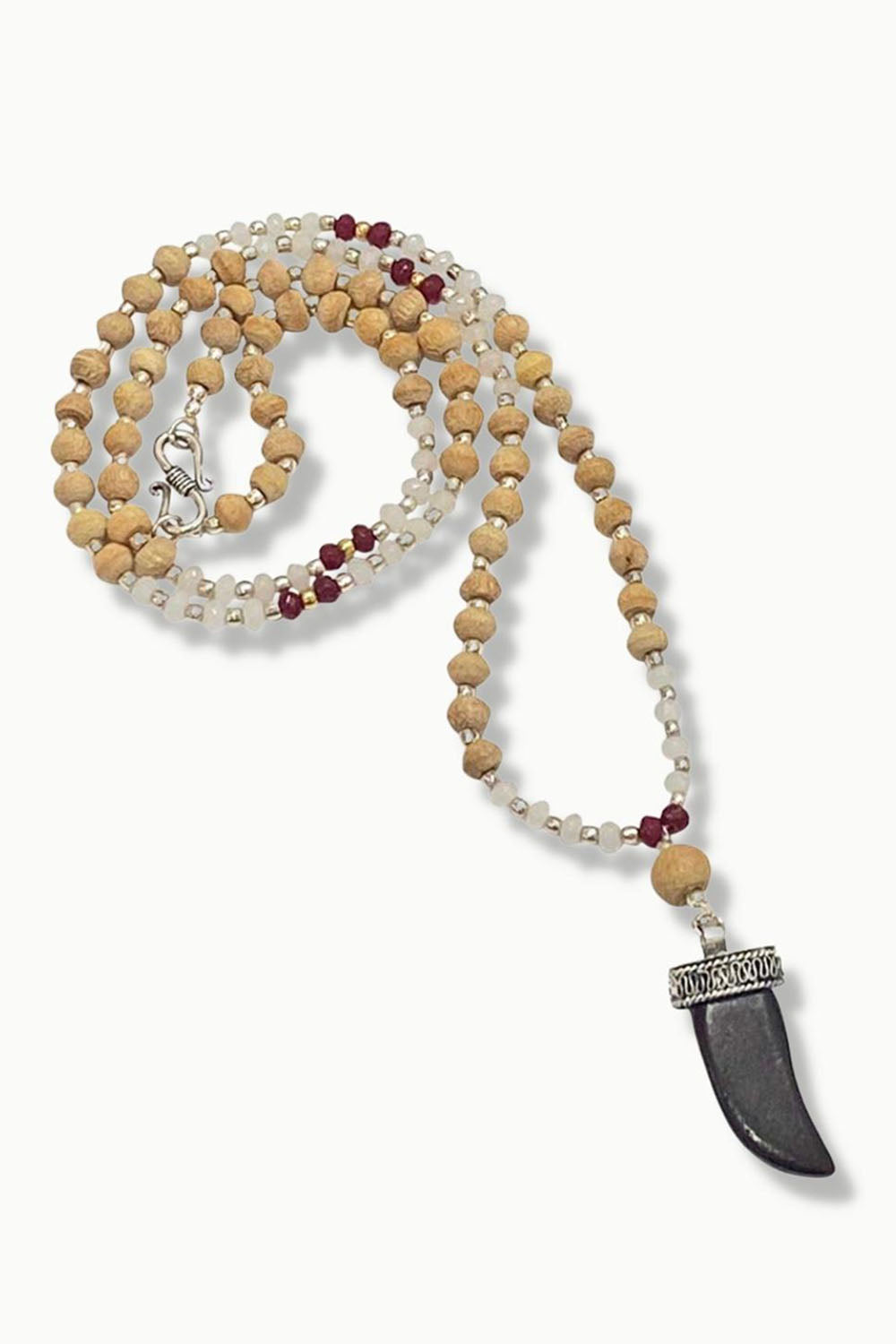 Sivalya Ojas Shark Tooth Amulet and Tusli 108 Beads Mala
Shark Tooth amulet has long been revered in ancient cultures as a symbol of courage and fearlessness in the face of imminent danger. Ojas symbolizing the high energy produced in our bodies through practice, is a strong and protective 108 Beads Mala featuring Tulsi, Moonstone and Red Agate beads strung on a sterling silver chain.
Fully activated Tulsi beads provide access to inner power channels deep within you, and profoundly increase your own capacity to protect against obstacles along the path to greater wisdom. Moonstone is a traveler's stone and is known for the protection it offers, to travelers and warriors. Red Agate is known for vitality and happiness and encourages freedom of thought and speech with a true expression of self.
108 Beads Mala Necklace
Activated 4mm Tulsi Beads
4mm Moonstone and Red Agate Beads
1.5" Shark Tooth Amulet - Horn
925 Sterling Silver Mantra Beads
Made with devotion by traditional yoga teachers
10% of proceeds go to Homes of Hope
Tulsi or sacred basil seeds, possesses some of the most potent Shakti or Divine Power found in Nature. When fully activated, the power of Tulsi may be channeled to transform the strength of your heart, mind, and soul, as well as your body's health & wellbeing. Tulsi inspires wisdom, grace, clarity, love, and joy in our lives, as well as tremendous health and vitality. 
Each Sivalya mala comes cleansed and energized in its own natural jute bag to keep it protected from negative energies and is packed in a beautiful eco friendly gift box. Included within the box, you will also find descriptions of all gemstones that your mala consists of and a leaflet with details about malas, materials used and information about how to practice with and take care of your mala.
Click here to learn more about healing powers and benefits of Rudraksha Beads.
We trust that your Sivalya jewelry and crystal will be cherished for generations to come. To maintain their timeless luster, we advise using the enclosed anti-tarnishing polishing cloth to regularly clean your pieces and keep them looking as brilliant as the day you received them. When you're not wearing your jewelry, remember to keep it safe in the fabric pouch included with your order.
Please avoid the following which can cause damage to the jewelry:
Do not use any sort of liquid "jewelry cleaner"
Do not expose pieces to soap or any other cleaning agents
Do not expose your jewelry to salt water or chlorine
Do not use a polishing cloth containing any rouge
We want you to absolutely love our designs. We proudly offer a 1-year warranty from date of purchase and will happily repair or replace your jewelry if any damage occurs to the material or workmanship.
Our authentic crystals and gemstones originate deep within the earth, are ethically sourced and individually hand-picked from wholesale mineral trade-shows. Each gemstone is beautifully unique in color, markings, shape, and inclusions. Please note that small inclusions (minerals trapped inside the gems) are to be expected in natural gemstones and crystals. 
We primarily use 925 sterling silver to make all our jewelry, chains, hooks, and clasps. Sterling silver is extensively used in crafting fine jewelry with gemstones because it has the unique ability to draw out and amplify the inherent healing qualities of the stones. Pure 925 sterling silver is then coated in white rhodium or solid 14K gold, depending on the specific design, to preserve jewelry's brightness and durability. This innovative process has been tested and proven to outperform jewelry made with traditional anti-tarnish processes.